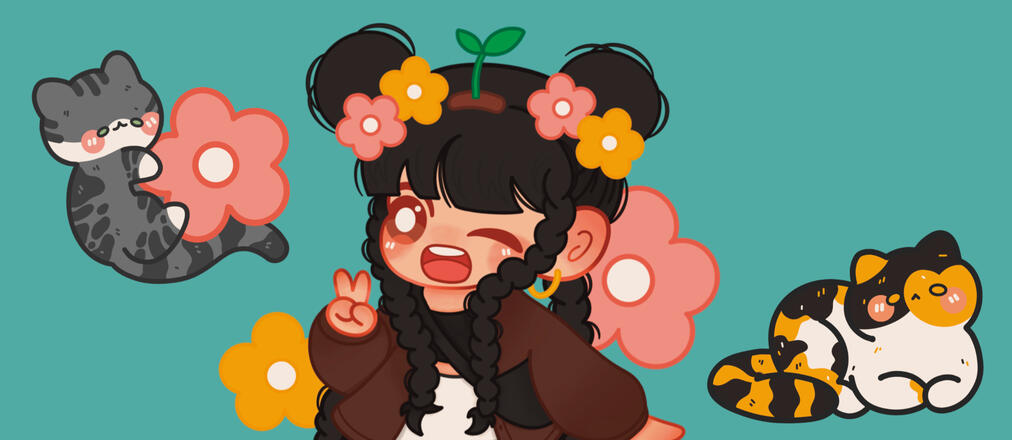 ☆ meet the human bean ☆
ivy | she/her
part-time artist in sunny california
all things cute n' cozy
Interested in a commission? Click here to get started!
Commissions
General Rules
Commissions are for personal use only. DO NOT reproduce or use for commercial purposes.

If you are interested in a commission for commercial purposes, please send me an email at [email protected] and I will get back to you ASAP.

I have the right to reject any commission request for any reason.
Payment
FULL payment of the commission must be received before I start working on it.

Payments methods accepted: PAYPAL or VENMO.
Process and Delivery
Commissions take anywhere between 2-8 weeks to complete. If you have a commission that needs to be finished before 2 weeks, please specify as this will lead to additional charges for rush commissions.

The commissioner will receive 2 digital copies after the completion of the commission: (1) a lower resolution PNG file with a watermark for online posts and (2) a high-resolution PNG file with no watermark for personal use.

The two digital copies will be sent to the commissioner via email.

If the commissioner would like a physical copy of the commission, please specify and additional fees will be determined.
Revisions
Sketch stage: The commissioner is allowed two (2) major changes and any minor changes.

Line art and coloring stage: The commissioner is allowed three (3) minor changes during the line art and coloring stage.

Any additional changes will result in additional fees.

Major changes include: change in pose, outfit change, etc.

Minor changes include: facial expressions, small alterations background/colors.
Refunds
Refunds are NOT accepted after I have begun on the sketch stage of your commission.

In the case of unforeseeable circumstances and I am unable to finish your commission after 8 weeks (2 months), a full refund will be issued.
Usage
I retain all rights over the commissioned artwork. The rights to the commissioned artwork DOES NOT transfer over to my client.

I reserve the right to post the finished artwork with my watermark online and include it in my portfolio.

Regardless of where the commissioned artwork is used/posted, I MUST be credited as the artist. Any social media posts will be made using the watermarked version of the commissioned artwork and will be tagged with my art handle (@drawnbyivy).

The commissioner may use the commissioned artwork in any way except for profit (whether directly or indirectly), resell, deform, or claim as their own.

I do not claim intellectual property of the commissioned artwork. However, I hold rights to the artwork and the commissioner cannot claim it was drawn by them.